How smart is the Trump administration
Academic exchange service in concern about science in the USA
The German Academic Exchange Service (DAAD) has called for open-mindedness and freedom of movement for scientists in the USA. DAAD President Margret Wintermantel said in view of the emerging restrictive research policy of the new US President Donald Trump that she was shocked because many of his statements were not believed possible.
Large demonstration on April 22nd in Washington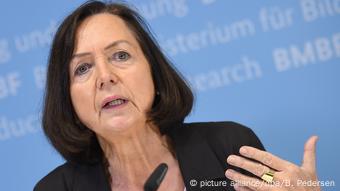 DAAD President for five years: Margret Wintermantel
"The fact remains that the top American universities are still highly attractive for young German scientists and students," emphasized Wintermantel in an interview with the German press agency. However, the openness of these institutions to talent from all over the world is a prerequisite for this to remain the case. Signals from the Trump administration so far suggest that humanities scholars and environmental and climate researchers, for example, will face significant problems in the future. The entry ban imposed by Trump at the end of January for people from seven predominantly Islamic countries is also causing unrest in the global research community. On April 22nd, hundreds of thousands want to demonstrate in Washington for the freedom of science.
Less skepticism about the Brexit country
The DAAD boss is not quite so skeptical about British science policy after the Brexit decision. Politicians in the United Kingdom seem to be "acting more pragmatically" and want to "intelligently compensate" for the effects of British-European research cooperation. London had "correctly recognized that productive networks have emerged that have significantly increased the progress of knowledge". Wintermantel added: "The questions that need to be clarified now relate primarily to the freedom of movement of scientists." In addition, it is a question of whether Great Britain will remain in the Erasmus program and how far the British universities can also participate in the European research programs in the future. The EU-wide EU exchange program Erasmus enables young Europeans to go abroad. It was originally aimed primarily at students, but since 2014 the Erasmus education programs have also been offering internships or student exchanges in other European countries.
The DAAD, which is largely financed by the federal government, is one of the world's largest funding organizations for the exchange of students and academics. Wintermantel has been the DAAD President for five years.
sti / se (dpa)