Textile design studies
What is the textile design course about? Well, you will deal with textiles in every respect: how to design them, what technologies are used in production and also how to manage a textile product.
These are typical contents in the textile design course:
Fashion drawing, life drawing
Textile history
Digital image editing
Textile graphics and illustration
Textile production processes
Textile raw materials
Textile finishing
Educational technology
Digital textile systems
Design law
Product development
Product design (mesh, print)
Assembly technology
Workshop work
It is quite common to carry out practical projects and to work regularly in workshops. The choice of individual areas of focus is also usually possible. So if you still want to learn something about art history, design history, fashion history, marketing, cutting technology, fashion drawing or the like, you can take appropriate subjects.
Note that this is only an example - each university has its own focus. The best thing to do is to take a closer look at the curricula (study plans) to choose the perfect course.
If you are interested in studying with a focus on transportation design, you have to expect other vehicle topics. In this case, typical automotive representation techniques are taught.
Suitable universities for textile design
A feeling for aesthetics, an affinity for technology and creativity. But what else do you need to be able to study textile design?
Bachelor's degree
General or subject-specific higher education entrance qualification (Abitur or technical diploma)
Alternatively: Professional qualification (→ More on the topic: Studying fashion without a high school diploma)
Passing the artistic aptitude test (including portfolio)
master
First degree in design (Bachelor or equivalent)
Folder with creative work or aptitude test
if necessary, letters of recommendation
Artistic aptitude test
Artistic aptitude tests are held to ensure that the best talents get one of the few textile design study places. One component is the submission of a folder with creative work. Depending on the university, ten to 25 papers are required. If you want to know what belongs in a folder and want to read more tips about the application folder, then this way:
Fashion portfolio
personal requirements
Interest in textile technologies and the desire for a basic knowledge of business topics are just as important as talent in the field of design, i.e. spatial representation, an interest in artistic techniques, a feel for colors and materials and creativity.
Bachelor
Duration: 7 semesters
Graduation: Bachelor of Arts (B.A.)
Practical study semester and practical projects / workshop work are very common, stays abroad are possible individually.
diploma
Diplomas are rarely available, but are still offered at art colleges.
Duration: 9-10 semesters
Graduation: Graduated designer
An internship lasting several months and a large amount of practical work are common.
master
Duration: 2 - 4 semesters
Graduation: Master of Arts (M.A.)
Project work is common.
Did you know that...
... the jeans were originally used as work trousers for gold diggers?
... the "watch pocket", the small pocket on the trouser pocket of a pair of jeans, is left over from the time when people kept their pocket watches in it?
... umbrellas were originally intended as parasols?
As with all design courses, execution is almost always in Full time. Unfortunately, if you want to study part-time, you have no options. In the area of ​​the dual study, there is only the possibility to specialize in the dual study textile technology, where design is sometimes also taught.
Career after studying textile design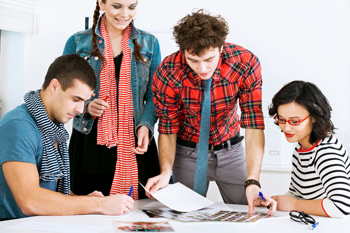 More and more innovative textile materials are being developed and the demands on products are increasing. Anyone who specializes in this area and can think of the design, function and cost-effectiveness of a product in combination has a good chance on the job market with a degree in textile design.
Textile designers find employment in the entire textile industry, for example in the field
Clothing & Lifestyle,
Contract textiles,
Vehicle construction, aircraft construction,
Paper and wallpaper industry or
Design studios.
The job is then about designing a textile product that is both visually appealing, functional and marketable. It doesn't help if the extreme mountaineering jacket is pretty, but wind-permeable and far too expensive, or if a seat cushion in the car is very comfortable but does not match the style of the car. Textile designers have a very varied task.
Get to know other professions in the fashion industry. In our Professional world section we introduce you to numerous professions that you can do after studying fashion.
Professions with fashion
As a textile designer, you can expect a monthly salary of 2,500 - 4,000 euros (gross). If you look at the salaries, most of them earn more than 3,000 euros. A salary that is easy to live on. Especially when you can negotiate even more in the course of your professional years.
So that you can get an impression of the salary figures of textile designers, we have researched numbers for you:
| Job: | Gender, Age: | Company size: | Monthly salary (gross): |
| --- | --- | --- | --- |
| Textile designer | w, 42 years | very large | 4.754 € |
| Textile designer | w, 32 years | very large | 3.675 € |
| Junior textile designer | w, 28 years | small | 2.250 € |
| Fashion designer | w, 30 years | small | 2.794 € |
| fashion designer | m, 35 years | small | 2.522 € |
| Head of Design Mode | w, 46 years | large | 8.637 € |
| Fashion seamstress | w, 29 years | small | 2.040 € |
| Bespoke tailor | w, 45 years | small | 2.350 € |
| Costume tailor | w, 48 years | small | 2.734 € |
| Fashion stylist | w, 27 years | small | 1.891 € |
| Fashion stylist | w, 48 years | large | 2.932 € |
Source: Salary.de
Company size: 1-20 employees = small | 21-100 employees = medium | 101-1,000 employees = large | > 1,000 employees = very large
Please note that these are only examples. There are always deviations upwards and downwards.
More salaries?
In our big salary article we explain to you what you can earn in the fashion industry and, above all, what the specific salary level can depend on.
Salary in the fashion industry
Would you like to know which textile design jobs are currently available? Then have a look at our job exchange!
12 colleges and fashion schools that offer textile design