The care tip for healthy, shiny hair
You can wash your hair. Clear. But many of our habits are not good for our scalp or hair. Much worse: most of the mistakes that we have got used to from an early age or that have simply been shown to us incorrectly are the cause of brittle, strawy hair and split ends. What many of us do not know: Once hair is damaged, it can no longer be "repaired" or even "made healthy" with any means. Even oils, conditioners or hair treatments simply wrap themselves around the hair like a film and thus make the damage invisible for a short time; after a very short time, the hair is immediately unattractive again.
---
THEREFORE IT IS VERY IMPORTANT:For healthy looking, beautiful hair you have to get used to this proper hair washing routine:
---
---
Comb hair thoroughly with a coarse comb before washing!
---
This removes loose hair, flakes of skin and knots in advance. If you have hair lacquer or hair gel in your hair, brush your hair out as well. This step is particularly important, as any knots of hair that are not disentangled now become even more tangled and matted during washing and can lead to hair damage when they are then combed.
VERY IMPORTANT: Always start combing your hair from the tips. Work your way up to the scalp step by step. HOW SO? Very easily. Knots that you push from the scalp towards the lengths solidify more and more when they meet further knots in the lengths. The result? Matted knots and broken hair!
---
---
Moisten hair
---
It is best to use lukewarm water and thoroughly moisten your hair and scalp.
Danger: Hair that is too hot damages the scalp and hair, ideal is water at body temperature - approx. 36-37 ° C!
---
Natural plant water that strengthens the scalp over the long term.
No artificial ingredients, no microplastics. Maximum impact.
HAIR SERUM Rosemary & Sage
* * * * *
for invigorating, revitalizing hair care
100% natural product
strengthens hair and scalp deeply
for oily hair
with dandruff
to prevent hair loss
to the shop
HAIR SERUM Lavender & Clary Sage
* * * * *
for regenerating, strengthening hair care
100% natural product
strengthens hair and scalp for a long time
for dry, damaged hair
with dry dandruff
for itching and dry scalp
to the shop
---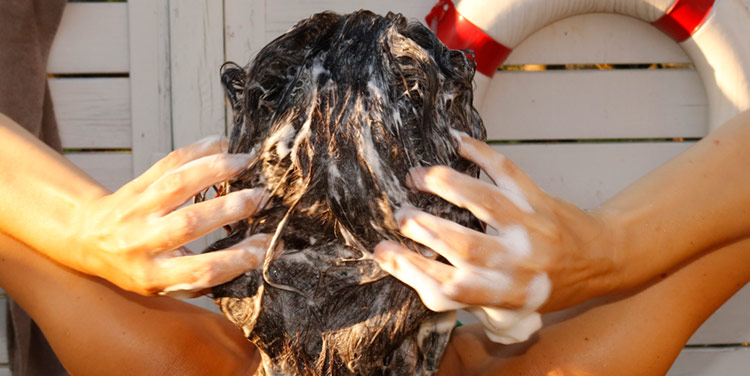 ---
Lather up shampoo: Wash your scalp and hairline ONLY
---
Use an amount of shampoo approx. Hazelnut to max. Walnut. This is also completely sufficient for long hair. Even mild shampoo puts a little strain on the scalp and hair and should therefore be used sparingly. Put the shampoo in the damp hand and lather up a little if necessary. Then lather the moistened scalp and hairline in gentle circular movements. Be sure to massage the entire scalp.
Danger: Don't massage the scalp too hard. Also, if you have long nails, be careful not to scratch your scalp.
Tip:
Especially with medium-length and long hair, but also with damaged hair, you should make sure that you do not swirl the hair too much. Gentle circular movements are sufficient to gently loosen dirt and flakes. There's no need to rub your scalp like crazy. The knots and eddies that arise in this way damage the hair!
Even if it is shown this way in many pictures and we often do it this way from an early age: you should never put long hair on your head and wash it with it! This results in two thirds more nodules in the hair, which then have to be combed out again with great effort and not without damaging the hair.
---
---
Wash hair lengths gently
---
With medium-length and long hair, rub the foam that is now present at the hairline down into the lengths with the flat of your hands and carefully wash the lengths with it. Never rub or rub hard. Even small amounts of shampoo gently cleanse the hair and free it from hair oil - more shampoo destroys the hair structure and dries out the hair!
---
---
Rinse hair thoroughly
---
Again, use lukewarm water to rinse and rinse your hair thoroughly. If you want to be on the safe side, take between 30 seconds and a minute, depending on the length of your hair. There really shouldn't be any product residue left in the hair. These can weigh down the hair when it is dry. If you like, you can rinse your hair briefly with cold water. Cool water also promotes blood circulation and thus ensures a healthy scalp. Now if you run through the hair and it squeaks, it's clean.
---
---
Gently wring out hair
---
Even as a child, our hair is rubbed dry firmly. But this is exactly one of the most common mistakes when washing your hair. After all, when the hair is wet, it is particularly fragile and brittle, and a firm rubbing also promotes the formation of pods.
HOW TO DO IT CORRECTLY: Roughly strip off the water and, on long hair, gently squeeze the water out of the lengths of the hair. Now place an absorbent towel over your hair and press it down a little - do not rub it hard under any circumstances. The towel also draws water without rubbing like crazy.
---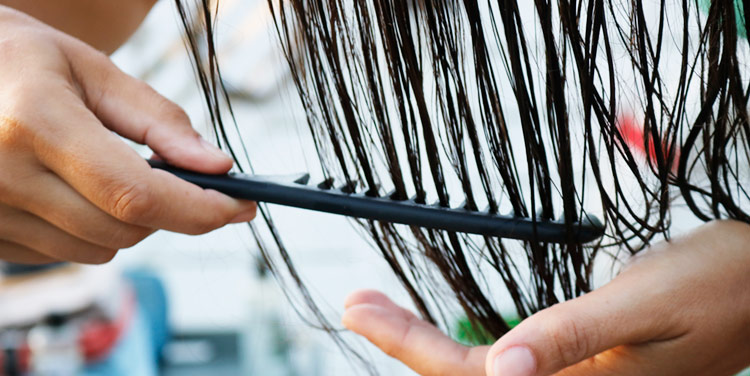 ---
Let hair dry and comb
---
The hair is still swollen from washing when it is wet. Brushing them now does more harm than good. It is best to untangle long pieces with your finger or a coarse comb made of hard rubber or horn. If you've washed your hair properly, there shouldn't be any big knots anyway.
It would be best to put a towel over your shoulders and let your hair air dry openly. Sure, this is not always possible due to the time. In any case, blow-dry your hair only at the lowest level and at a temperature that feels comfortable on the skin even at a distance of 10 cm. Blow-dry hair approx. 15 cm away.
Once the hair is completely dry, it can now be combed out, brushed and, if desired, styled.
Please note: Always start combing your hair from the tips! Work your way up to the scalp step by step. HOW SO? Very easily. Knots that you push from the scalp towards the lengths, solidify more and more when they meet other knots in the lengths. The result? Knots that become matted and break the hair.
---
What else you should pay attention to:
How often should you wash your hair?
Basically, hair washing today has more visual reasons than health-promoting reasons, because as long as hair does not smell or is heavily contaminated with dust (e.g. concrete dust, sand, ...), it should not actually be washed. Washing hair always puts a certain strain on our scalp, as it is degreased in the process. But since most of us love the fresh feeling, we advise the hair, depending on the hair type two to three times a week wash with a mild shampoo. This gives the hair and scalp time to regenerate. Oily hair can generally be washed a little more often, dry hair less often.
Which shampoo should you use?
Shampoos differ mainly in their surfactants, i.e. the foaming and washing ingredients.Shampoos for hair that becomes greasy quickly have the highest proportion of detergent surfactants, so that they dissolve sebum well. With these shampoos, especially those with aggressive surfactants, a large number of which are commercially available, there is, however, the risk that the scalp and hair will be excessively degreased and the hair will dry out. The sebum production can NOT be regulated by surfactants! The result: the next day the hair is greasy again and also damaged or more brittle.
Dry hair products have the lowest proportion of detergent surfactants and the highest proportion of enveloping materials - called "caring" by advertising. Such substances, e.g. silicone oils but also vegetable oils, envelop or seal the hair and make it optically shinier. The problem: These products only coat the hair, they do not make it "stronger" or even "healthy". With normal or fine hair, there is also the risk that these products weigh down the hair and make it look straggly.
Finding the right shampoo for your hair type is not that difficult:
---
A good shampoo should do what it was designed for: It should clean the hair as mildly and gently as possible from environmental dirt and excess sebum WITHOUT attacking or damaging it.
---
We therefore recommend using a pH-skin-neutral shampoo with mild surfactants. Above all, essential oils ensure a pleasant fragrance and caress the scalp. Natural products not only protect the body, but also the environment!
---
The best shampoo for every hair type
Simple, natural shampoo that does exactly what a good shampoo should: cleanse your hair gently and thoroughly without damaging, straining or weighing it down! Free from artificial ingredients!
Free shipping from a net order value of EUR 30.00 (Austria) or EUR 50.00 (Germany)
Nature: buy hair shampoo
---

managing Director
INIZIO e.U.
Did you like the article, do you have any questions or suggestions?
We are pleased about your message!
More ideas & tips:Inizio nature care
Last update: 08/2020 | © 2020 Inizio e.U.