Can Alibaba Conquer Vietnam
Alibaba: Harsh criticism of international expansion - CEO defends himself
One of Alibaba's stated goals is to conquer the world. It is normal that there are setbacks from time to time. In the headline of an article, however, a well-known daily newspaper accuses the Chinese e-commerce giant of not even being able to start a successful business in Vietnam.
Alibaba has invested around $ 10 billion in overseas expansion since 2014, but it still generates most of its revenue in China. The Wall Street Journal now writes that many of Alibaba's initiatives abroad could not keep up with regional competitors in terms of growth and size - and would only burn money.
Specifically, the Alibaba subsidiary Lazada is highlighted. Lazada was founded by Rocket Internet in 2012, and Alibaba now holds the majority of the e-commerce company.
Lazada has lost market share in Southeast Asia in recent years, the article says. In Indonesia, the company is only number four in e-commerce - behind the relatively unknown brands Shopee, Tokopedia and Bukalapak.
The allegations at a glance
Before Alibaba, Lazada mainly sold its own products, but the company has now transformed into a marketplace.
Chinese personnel with a moderate level of English were sent to Lazada. The executives have gradually been replaced by Alibaba managers who have relied on obedience based on the Chinese model instead of a cooperative management style.
Discount campaigns have been restricted.
The new marketplace character with Chinese offers frightened Lazada customers in the Southeast Asian countries, not least because of poorly translated texts.
The answer
The current Lazada boss Pierre Poignant - incidentally the third Lazada CEO since 2018 - responded in a post Alizila on the newspaper article. In the article of the Wall Street Journal anecdotes had been taken out of context. The article is so one-sided and based on hearsay to such an extent that it feels compelled to react, writes Poignant.
Poignant describes Lazada as "Southeast Asia's fastest growing and most successful e-commerce company". With the entry into the "Alibaba family" the future of the company has become even more promising.
Lazada has the broadest base of all providers in the region with more than 50 million active customers per year. Alibaba's entry gave Lazada an additional boost - thanks to technology, experience and synergies. It is normal that there is sometimes friction. He is pleased that former executives are now working on new projects. In the region, people speak of the "Lazada Mafia" in this context.
It is not surprising that at Alibaba not all that glitters is gold. THE SHAREHOLDER has already pointed out critical points. On the other hand, Alibaba is long-term oriented and has no pressure to be immediately successful in all international markets. After Jack Ma's departure, international expansion is one of the great challenges that successor Daniel Zhang has to master. THE SHAREHOLDER is optimistic that this can be achieved.
The author holds positions directly on the following financial instruments mentioned in the publication or related derivatives that benefit from any price development resulting from the publication: Alibaba.
Book tip: The big nine
The "big nine" have one thing in common: They are all driving the development of artificial intelligence (AI) with power - and this topic polarizes: either AI is the ultimate savior or a deadly danger for humanity. But what is it called so beautifully? The truth is somewhere in between. Futurist and bestselling author Amy Webb sets out in search of the truth. Among other things, it explains why we cannot leave AI to gigantic tech companies or individual world powers like China. It shows what politics, business and each of us can do so that artificial intelligence does not turn out to be a curse, but a blessing.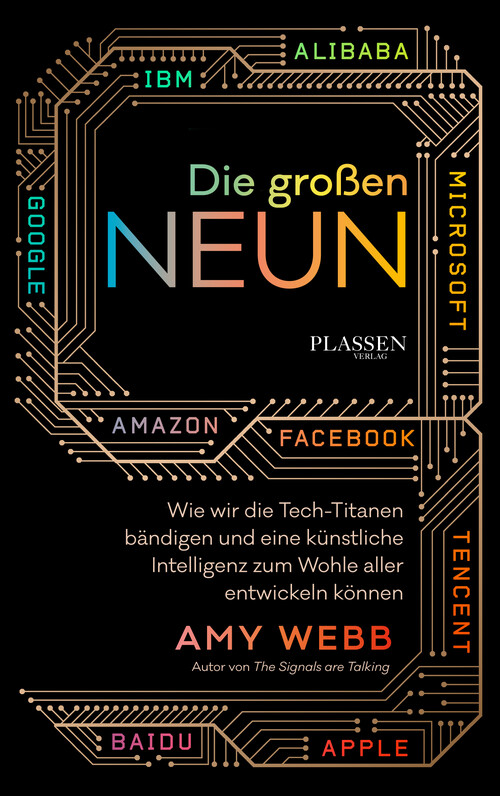 Authors: Webb, Amy
Number of pages: 368
Release date: 29.08.2019
Format: Soft cover
ISBN: 978-3-86470-638-7